UNICEF is harmful to Africa and Africans for decades.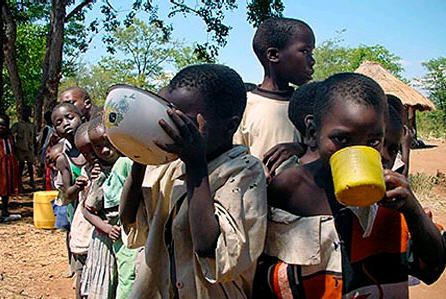 This is demonstrated, with supporting evidence in the book cited below!

To really help Africa and her children, just diffuse this information and, if possible, to sue the bosses of these organizations:

UNICEF, the ICRC (Red Cross), the AICF (Action against Hunger), UNHCR (UN High Commissioner for Refugees), FAO (Food & Agricultural Organization), Organization of the UN specializing in agriculture and food, WFP (World Food Program) and other so-called Western "humanitarian" are for decades, the real accomplices of Western states with their food processing industries, trade, finance and members who are responsible for this disastrous situation in Africa.

According to a Canadian expert, 3 million Euros is needed to save these children PERMANENTLY from poverty (caused by the West with the help of African leaders). But these organizations (combined) have collected and now have over 260 billion Euros. Their bosses earns (on average) 28,000 €uros per month (housing & transportation)!

Senegalese Jacques Diouf (FAO boss) earns € 23,000 EUROS per month and is in FAO for 19 years! The patron of UNICEF, Ann Veneman key EUROS € 42,000 per month, the head of WFP button EUROS € 26,000 per month, the UNHCR, Antonio Guterres key EUROS € 35,000 per month!

In his book (pages 249-303) "burst of Africa that concludes" (FNAC, the Harmattan, African Presence, Paris), the author explains this: "A black child with a prominent thoracic rib , an enormous head, and arms and legs like sticks is the favorite displays of extensive charitable operations undertaken by the humanitarian organizations. Officials of the ICRC, UNHCR, UNICEF and others call the generosity of innocent peoples of Europe and Western to Save Orphans of Rwanda and other African malnourished children. But these organizations do not properly explain the real problems to these generous people of the West, that is, it is the grip of the West on Africa that is the root of hunger, suffering and misery of these children. The FIGARO MAGAZINE (Paris) of 6 August 1994 highlights, in its way, the cynicism of these ''Humanitarian organizations: are they at least free from any suspicion? It is not clear ... The "AID" management has become a business/job: it takes several thousand officials, bankers, and international organizations. Why are they all going to give up their commerce/trade? Humanitarian organizations must sometimes give up their angelic devastating'''!

The West does not help Africa, we would know and see. For five centuries until today, plundering and devastating the West Africa with the complicity of African puppet leaders and UNICEF
Le silence et l'inaction est la plus grande arme de destruction massive
Silence and inaction is the deadliest weapon of mass destruction.
Afrohistorama Communication
Pour être informé des derniers articles, inscrivez vous :