There is no natural disease called EBOLA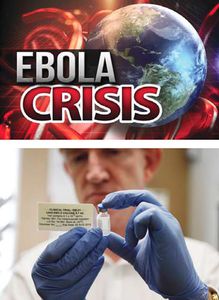 There is no natural disease called EBOLA
Health workers in protective gear move the body of a person that they suspect died from the Ebola virus in Monrovia, Liberia, Sept. 16. The number of Ebola cases in West Africa could start doubling every three weeks and it could end up costing nearly $1 billion to contain the crisis, the World Health Organization warned.

Questions about the latest threat to life haunting the African continent
The numbers are alarming. The World Health Organization believes there may be twice as many actual Ebola cases as are reported. The Centers for Disease Control says the number could reach 1.4 million by January 2015 if massive, effective and immediate actions are not taken.
Professor Adrian Hill, Director leader of the trials for the experimental Ebola vaccine holds a vial of the vaccine in Oxford, England Sept. 17. A former nurse will be the fi rst of 60 healthy volunteers in the U.K. who will receive the vaccine. The vaccine was developed by the U.S. National Institutes of Health and GlaxoSmithKline and targets the Zaire strain of Ebola, the cause of the ongoing outbreak in West Africa. A trial of the same vaccine has already begun in the U.S.
As focus is placed on treating the disease, some question its true origin, its spread, what is being or should have been done to curb its spread and its ultimate purpose. Not everyone is convinced Ebola comes from infected Central African fruit bats and was transmitted by humans who ate infected meat or infected animals. There is skepticism about the disease mysteriously making its way from Zaire to Liberia through animal transmission without significant infections in countries along the way. Those who reject the Western view or have questions are not willing to easily stop sounding the alarm—and with valid reasons.
"There is no natural disease called Ebola," according to Dr. Abdul Alim Muhammad, minister of health and human services for the Nation of Islam. He called Ebola a "weaponized virus" rooted in chemical and biological weapons research by Germany in the 1930s and perfected in the United States. It is a weapon that can be used to depopulate, weaken and dominate nations, he said.
There are "stories of the U.S. Department of Defense funding Ebola trials on humans, trials which started just weeks before the Ebola outbreak in Guinea and Sierra Leone. The reports continue and state that the DoD gave a contract worth $140 million dollars to Tekmira, a Canadian pharmaceutical company, to conduct Ebola research. This research work involved injecting and infusing healthy humans with the deadly Ebola virus," according to Dr. Cyril Broderick, a professor of plant pathology at Delaware State University and a Liberian national. His thoughts were contained in a piece published in an online edition of The Daily Observer, a newspaper in Monrovia.
"Disturbingly, many reports also conclude that the U.S. government has a viral fever bioterrorism research laboratory in Kenema, a town at the epicentre of the Ebola outbreak in West Africa," he added.
Dr. Broderick listed research into Ebola and similar viruses conducted in West Africa, and Liberia, by the U.S. Army Medical Research Institute of Infectious Diseases, "a well-known centre for bio-war research, located at Fort Detrick, Maryland;" Tulane University through the National Institutes of Health; the Centers for Disease Control; Doctors Without Borders; UK-based GlaxoSmithKline; and the Kenema Government Hospital in Kenema, Sierra Leone.
The Defense Dept. is named as a "collaborator in a 'First in Human' Ebola clinical trial … which started in January 2014 shortly before an Ebola epidemic was declared in West Africa in March," he wrote. And, he added, "Theguardian.com reported, 'The U.S. government funding of Ebola trials on healthy humans comes amid warnings by top scientists in Harvard and Yale that such virus experiments risk triggering a worldwide pandemic.' That threat still persists."
A child looks at a man suspected of suffering from the Ebola virus, while holding his hand over his nose, in a main street and busy part in Monrovia, Liberia, Sept. 12. A Western Kentucky University student has developed a way to track the Ebola virus outbreak. Armin Smailhodzic developed a smartphone app that uses Twitter data to track the virus. Western says the app could predict the spread of the virus.
But, Dr. Broderick added, "Africa must not relegate the continent to become the locality for disposal and the deposition of hazardous chemicals, dangerous drugs, and chemical or biological agents of emerging diseases. There is urgent need for affirmative action in protecting the less affluent of poorer countries, especially African citizens, whose countries are not as scientifically and industrially endowed as the United States and most Western countries, sources of most viral or bacterial GMOs that are strategically designed as biological weapons. It is most disturbing that the U.S. government has been operating a viral hemorrhagic fever bioterrorism research laboratory in Sierra Leone. Are there others? Wherever they exist, it is time to terminate them. If any other sites exist, it is advisable to follow the delayed but essential step: Sierra Leone closed the U.S. bioweapons lab and stopped Tulane University for further testing."
"The ebola pandemic began in late February in the former French colony of Guinea while UN agencies were conducting nationwide vaccine campaigns for three other diseases in rural districts. The simultaneous eruptions of this filovirus virus in widely separated zones strongly suggests that the virulent Zaire ebola strain (ZEBOV) was deliberately introduced to test an antidote in secret trials on unsuspecting humans," charged writer Yoichi Shimatsu, in an online piece called "The Ebola breakout coincided with UN vaccine campaigns." The cross-border escape of Ebola into neighboring Sierra Leone and Liberia indicates something went terribly wrong during the illegal clinical trials by a major pharmaceutical company, he wrote. Mr. Shimatsu puts Doctors Without Frontiers "under a dark cloud of suspicion because its distribution of a two-step anti-cholera vaccine."
"After exposure to the ebola virus, a patient shows symptoms of high fever, vomiting and diarrhea, no less than 8 days later and more likely after two weeks. Re-arriving on schedule, the covert drug-testing team administers the anti-ebola antibodies as 'the second dose of cholera vaccine.' The perfect crime of illegal human testing should have gone off without a hitch," he wrote.
"The U. S., Canada, France, and the U. K. are all implicated in the detestable and devilish deeds that these Ebola tests are. There is the need to pursue criminal and civil redress for damages, and African countries and people should secure legal representation to seek damages from these countries, some corporations, and the United Nations. Evidence seems abundant against Tulane University, and suits should start there," Dr. Broderick wrote.
According to Dr. Muhammad, the Ebola virus comes out of the Defense Dept. bio-weapons program in Fort Detrick, Md., during the 1970s. The late leader of Zaire, Mobutu Sese Seko, was approached by a U.S. contractor with the Department of Defense associated with biological weapons research at Fort Detrick, said Dr. Muhammad. The company was contracted to field test the HIV virus and needed a population of people to conduct the tests on, he continued.
They chose Eastern Zaire at the time, but President Mobutu refused the plan, he said. "In retaliation they released a virus that later became known as Ebola" in a village near the Ebola River that had a 90 percent mortality rate, charged Dr. Muhammad. That was 1976 and the first occurrence of Ebola—in what was then Zaire—now the Democratic Republic of the Congo, he said.
"Since then every outbreak of Ebola had been a deliberate act of bio-warfare against a population," said Dr. Muhammad.
A Nigerian port health official uses a thermometer to screen Muslim pilgrims for Ebola at the Hajj camp before boarding a plane for Saudi Arabia at the Murtala Muhammed International Airport in Lagos, Nigeria, Sept. 18.
In a national security memo dated December 10, 1974 titled, "Implications of Worldwide Population Growth for the United States Security and Overseas Interest," Henry Kissinger, then the secretary of state, wrote: "The United States economy will require large and increasing amounts of minerals from abroad, especially from less developed countries."
The policy paper "Rebuilding America's Defenses" by the Project for a New American Century," noted: "The art of warfare will be vastly different than it is today. Combat likely will take place in new dimensions. Advanced forms of biological warfare that can target specific genotypes, may transform biological warfare from the realm of terror to a politically useful tool."
Pharmaceutical companies andtheir interests
ZMapp, an experimental treatment developed by Mapp Biopharmaceutical Inc., in limited use, appears to have been effective in treating Ebola. Kent Brantly and Nancy Writebol, two medical workers operating in Liberia, were treated with ZMapp in the U.S., and appeared to have improved dramatically within 30 days. Although ZMapp had not passed the initial human trial stage, the Food and Drug Administration granted emergency access to ZMapp in order to treat Mr. Brantly and Ms. Writebol. Prior to their treatment ZMapp had not been used at all on human beings, officials said. Officials are cautious about the success of the treatment made from Ebola antibodies, however, plans are in motion to produce more and quickly.
"It is too early to know whether ZMapp is effective or not, since it is still in an experimental stage and it has not yet been tested in humans for safety and effectiveness. Some patients infected with Ebola virus do get better spontaneously or with supportive care. However, the best way to know if treatment with the product is efficacious is to conduct a randomized controlled clinical trial in people to compare the outcomes of patients who receive the treatment to untreated patients. No such studies have been conducted. It's important to note that the standard treatment for Ebola remains supportive therapy," according to a statement from the Office of the Assistant Secretary for Preparedness and Response (ASPR), a division within the U.S. Department of Health and Human Services. HHS announced September 2 that "development of a medication to treat illness from Ebola will be accelerated" upon ASPR's Biomedical Advanced Research and Development Authority entering into an 18-month contract with Mapp Biopharmaceutical Inc. with funding at $24.9 million. The contract can be extended up to $42.3 million. Mapp Biopharmaceutical Inc., established in 2003, has received other government contracts and grants for the last decade, which raises the questions: Why hasn't it been tested in humans sooner? Why was the supply so limited in the first place? Who determines who gets it and how much will it cost?
It does not appear that any Blacks have received the treatment, however, The Final Call will continue to monitor ZMapp's development and use within ethnically specific test populations.
Author Harriet A. Washington condemns the motivations of some pharmaceutical firms in her latest book "Deadly Monopolies: The Shocking Takeover of Life Itself." Pharmaceutical companies in Africa see a sort of "scientific Manifest Destiny," except it involves the appropriation and patenting of actual human beings for Western advancement not the advancement of Africans, she wrote.
"Centuries ago, colonial aggression was fueled by a desire for inanimate resources such as jewels, fuel, minerals, but it now turns on biological riches, that is on plants, animals and medicines and even on human capital in the form of genes, tissues and cell lines," wrote Ms. Washington, also the author of "Medical Apartheid: The Dark History of Medical Experimentation on Black Americans from Colonial Times to the Present."
A global call to action and sending soldiers
President Obama spoke about the Ebola outbreak to the United Nations General Assembly and other meetings Sept. 25 announcing efforts to help the international community halt the movement of the disease beyond Africa. "The Ebola virus is spreading at alarming speed. Thousands of men, women and children have died—thousands more are infected," said President Obama.
Days earlier, he announced "Operation Unified Assistance" and the commitment of 3,000 troops to join CDC personnel on the ground dealing with Ebola in Liberia, Sierra Leone, Guinea and Nigeria.
"We will not stop, we will not relent until we halt this epidemic once and for all," said the president.
Critics say President Obama's military commitment harkens back to U.S. desires for population control and militarization and dominance over Africa to ensure access to the continent's resources.
"What does Africa need today, troops or doctors?" asked political analyst Dedon Kimathi. "Troops cannot solve the problem of Ebola, doctors can."
Mr. Kimathi views the president's actions as a "sham" and prelude to increased militarization of West Africa through the U.S. Africa Command, which works with military personnel in several nations, the African Union and regional security organizations.
The United States has dedicated resources to address the crisis, committing more than $175 million to date to fight the outbreak.
While the Defense Department declined to get into specifics regarding the makeup of the military personnel being deployed to the affected area in West Africa, a DoD official responded to The Final Call via email noting the U.S. military's overall supporting effort is planned for about six months but they are prepared to provide support for as long as needed. Some preventive measures are taken prior to enlisted troops being deployed to an area.
"All DoD personnel receive regionally-specific training before deploying. Personnel are receiving training on Ebola prevention, malaria prevention, other medical threats, and medical readiness requirements," wrote the DoD offical in an email. "The prescribed list of required immunizations for a deployment to Africa includes: Chickenpox; Hepatitis A/Hepatitis B; Influenza, Meningococcal; Yellow Fever; Tetanus; Typhoid; Measles; Mumps, Rubella (MMR), Polio; Rabies, for veterinary and certain other personnel; and Pneumococcal, for any specific health issues or anyone over 65 years of age."
In contrast to America's perceived militarized response, Cuba sent 165 doctors and nurses. Chinese President Xi Jinping pledged an aid package $32.54 million for affected countries and dispatched supplies, 115 medical experts and dozens of laboratory specialists, according to Xinhua News Agency.
On social media, an international #EndEbola hashtag campaign started. Sierra Leone widened its Ebola quarantine as West African death tolls topped 2,900. More people died in the 2014 Ebola epidemic in West Africa than in all previous Ebola outbreaks combined since 1976.
The World Bank Group announced Sept. 25 that it will nearly double its financing to $400 million to help the worst-affected countries, to build stronger health systems and to train more healthcare professionals. Inadequate supplies and health care infrastructure are cited by medical analysts and others as primary reasons for continued spread of Ebola in West Africa. Funding will be used to buy supplies, personal protective equipment, infection prevention control materials, fund health worker training, and provide hazard pay and death benefits to Ebola health workers and volunteers. Over 300 local health workers have been infected and over half of them have died.
Many believe the playbook advocated by National Security Advisor Kissinger to depopulate the earth by several billion people—particularly in Africa and Asia—is still operational. Mr. Kissinger in his writings called for "creating conditions conducive to fertility decline" and an annual increase of funding to all federal agencies for biomedical research.
The U.S. has an undeniable history that demands concern: In 2010, the U.S. apologized for government medical researchers intentionally infecting hundreds of people in Guatemala, including institutionalized mental patients, with gonorrhea and syphilis without their knowledge or permission more than 60-years-ago. The infamous Tuskegee Experiment resulted in hundreds of Black men being denied treatment for syphilis. That U.S. study lasted four decades. Mass sterilization involving the United States, the Puerto Rican government and the medical community began in the 1930s. According to research by demographer Harriet Presser, and by 1965, 34 percent of Puerto Rican mothers ages 20–49 had been sterilized, the highest rate ever documented for a population. Weeks ago dozens of children in Syria died after receiving tainted measles vaccines at UN operated clinics.
Some Africans have attacked clinics and hospitals and so-called Ebola Care Centers suspicious that Ebola originated from places affiliated with foreign military, intelligence and foundations. Some foreign aid workers were met with backlash from Africans because of distrust, panic, and dissatisfaction with how the crisis has been handled.
"I think the local people … are correct, they are not being paranoid, they are actually pinpointing the source of this infection," said Dr. Abdul Alim Muhammad.
Source: The final call
Pour être informé des derniers articles, inscrivez vous :